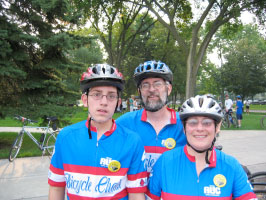 It all started with a little neighbor boy named Zeek. He loved bicycles. Although he was from a poor family, he managed to find discarded bicycles while hunting scrap metal with his grandpa. Most of these bicycles were not in very good condition. One day Zeek saw Michael and I riding our bicycles and asked if we could help him fix one of his. Once Zeek discovered that Michael could repair bicycles, he would race to our house on his latest treasure as soon as he saw Michael's red truck coming down the street. Michael did his best to fix the bicycles, but some were just beyond repair.
Michael and I volunteer a lot. We signed up to volunteer at our neighborhood cleanup. The organizers needed help with the bicycles. Since we knew how to fix them, we knew we could do the job, which was to tear down most of the bicycles and recover the scrap metal. Many of the bicycles that came in only needed minor repairs to make them road worthy. We thought of Zeek, and realized that some of the bicycles we were tearing apart were better than his. We managed to squirrel away a couple of bikes and some spare parts to keep the bikes in good repair. Then we fixed a bicycle to give to Zeek. I wish I had a picture of his face on that special day.
The gift of that one bicycle has grown into Mr. Michael Recycles Bicycles. We go to various community recycling centers and collect the bicycles that people are discarding. Those that are beyond repair we tear apart, but we salvage as many parts from them as possible and use them to repair other bicycles. Since we started this work in 1998, we estimate that we have given away over 8000 bicycles, and kept the metal from several thousand bicycles from going into a landfill!
Although we do sell some bicycles, our primary focus is on giving away bicycles.  Among our recipients are low-income children and adults, college students (many from foreign countries), new immigrants, neighbors, residents of half-way houses, and even homeless people. Our bicycles are available to anyone who wants one without regard to socioeconomic status.
One of our neighbors is a social worker whose clients are homeless. He told us that our bicycles have enabled several of his clients to obtain and keep employment and move into their own apartments. We also have had the privilege of providing bicycles to needy families at Christmas time. Then there was the time we received an adult-sized tricycle that we then gave to a 12-year-old boy with developmental disabilities. His foster mom sent us photos of this smiling child riding the tricycle and told us how this gift had changed his life.
Our mission is, "To provide a bicycle to any person who wants one regardless of socioeconomic status." We are not a non-profit, but are a business that operates on a break-even basis. We do not earn any salary from this company.
Since we are not a non-profit, we need to earn money to pay for renting our store, storage space, purchasing cables and lube and other parts for fixing the bicycles, insurance, and other miscellaneous expenses associated with running the business. We sell used parts and accessories, used bicycles, and provide paid repair services to raise the money. 90% of all funds received from the money you spend will be used to cover our costs, enabling us to keep on giving away bicycles. The other 10% is given to charity. We especially treasure customers who buy our stuff during the off season, as that helps us pay the bills.
We have a large variety of vintage parts, both new and used, as well as some bicycles that are sold "as-is," and proceeds from these sales are used to cover our expenses.  If you are seeking a part, a project bicycle, or whatever, come and shop at the Ultimate Bike Junk Yard and you just may find what you seek.
We appreciate your business, and all those who help us to fulfill our mission to give away bicycles to people who need them.
Michael and Benita Warns
Mr. Michael Recycles Bicycles
520 N Prior Ave
St Paul MN 55104