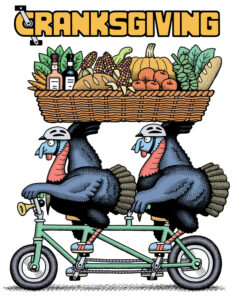 Cranksgiving 2024 is tentatively scheduled for Saturday, November 23, 2024!! Make your plans to race, or to ride a route to pick up food. You can also bring your donations of food and sundries to Zion Lutheran Church on the day. The address is 1697 Lafond Avenue.
Registration for Cranksgiving 2024 begins at noon on Saturday, November 23, 2024. Choose the alley-cat style race with prizes awarded for fastest male, fastest FTW, fastest team, and DFL. You are given a list of stops, and you plot your own route between them. You purchase at least one item at each stop that you will donate to the food program. Be sure to save the receipts, because those are your proof of visiting each stop. You also need to have all of the mandatory items in order to qualify for prizes.
If racing isn't your thing, do our non-competitive cruise. Choose one or more of the race stops on the manifest and go purchase at least one item from each stop. Ride back to the church and donate the items you bought.
Prizes will be awarded for most generous individual and most generous team. You don't have to race to qualify for these prizes, but you will need to turn in receipts along with your donated items.
Don't want to ride at all? Feel free to walk to one of the nearby stops to buy stuff to donate, or simply bring items to the church during the event. If you live in the Hamline Midway neighborhood, you can schedule a food pickup by calling 651-641-1037 and leaving your contact information on voice mail. Deadline for pickup requests is Friday, November 22 at noon.
All items donated will be used by Zion Lutheran Church either for cooking their weekly free hot meals that are open to all, or given away in the weekly grocery distribution.
Questions? Send message to [email protected] and we will get back to you with answers.
Sponsored by Mr. Michael Recycles Bicycles