Home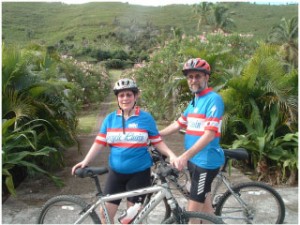 Who is Mr. Michael Recycles Bicycles?
MMRB is a private company that gives away bicycles. It is run on a break-even basis by Michael and Benita Warns.  No one receives a salary.
What does MMRB do?
MMRB gathers discarded bicycles, repairs them, and gives them away. MMRB also offers repair services with a labor charge of $15 per hour plus parts, and sells a variety of used parts and accessories, as well as a limited number of used bicycles.
Where does MMRB get the bicycles?
MMRB volunteers go to community recycling events and gather the reusable bicycles brought in. People who have a bicycle they no longer need can contact MMRB directly. A small donation is welcomed to offset disposal expenses for worn tires and other non-recyclable parts.
When can people contact MMRB?
Anytime via e-mail at warns@pclink.com, or telephone 651-641-1037 between 9 AM and 9 PM and leave a message.
Why doesn't MMRB sell the bicycles, or make people earn them?
We run MMRB primarily as a ministry, and our calling is to give away bicycles. We do sell used bicycle parts, accessories, and novelty items made from bicycle parts. Sales of these items offset the cost to run the business so that free bicycles are available for those who need them.  We do sell some ready-to-ride used bicycles, some bicycles in as-is condition, and higher-end and collectible bicycles.  All the money we receive from sales of our products and services goes toward the expenses of the shop.  All labor is provided by volunteers, and we do not take a salary from this business.
How can I get a bicycle?
The wait list is currently open, so contact us by telephone between 9 AM and 9 PM at 651-641-1037, or send us an e-mail message at warns@pclink.com.  Be sure to provide the following information:  your first and last name, your height, the style of bicycle preferred, and a reliable telephone number where we can reach you when your bicycle is ready.  Once we have all the information,  then we put you on our waiting list. When your name reaches the top of the list, we fix a bicycle for you and call you to arrange pickup.  We keep our waiting list open until it reaches 60 names, at which time we close it until we work through the backlog.  We always post a date for people to check back to see when the list will reopen.
For more information, call Mike or Benita Warns at 651-641-1037, or e-mail them at warns@pclink.com.  Please do not call before 9 AM or after 9 PM.  Thanks.